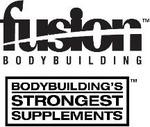 FUSION BODYBUILDING
We're FUSION Bodybuilding. Since 1998 we've had a single-minded mission: TO MAKE BODYBUILDING'S STRONGEST SUPPLEMENTS.

We've made this happen through a fusion of three elements: science, innovation and a gut-wrenching desire to deliver the highest effective dosages possible. We aren't trying to bullshit anyone - we know it's your blood, sweat and tears in the gym that make it happen. We don't make just any supplements - we make your supplements. PURPLE K, SUB Q, ZEUS, FUBAR and SHUT EYE quickly become staples in bodybuilder's lives worldwide.
Have any questions about FUSION BODYBUILDING?
Please don't hesitate to
ask us
!
Sort

Loading Products Please Wait
Looking for another FUSION BODYBUILDING product?
Is there another FUSION BODYBUILDING product would like to buy? Please contact us we may be able to order it in for you!
Looking for discussion on FUSION BODYBUILDING?
You can also discuss FUSION BODYBUILDING on the SVN Canada Forums.